Chet Baker Tribute



Chesney Henry "Chet" Baker
American Jazz Musician

December 23, 1929 - May 13, 1988


Raised in a musical household (his father played the guitar), and coming to age during the bebop era of jazz, Baker found success as a trumpet player in 1951 when he was chosen by Charlie Parker to play with him on a series of West Coast dates (Los Angeles).

In 1952 Baker joined the Gerry Mulligan Quartet, which lasted less than a year due to Mulligan's arrest on drug charges. Over the next few years Baker fronted his own combo, both playing trumpet and singing. In the early 60's drug addiction caught up with him and his promising career declined as a result. Heroin addiction caused a myriad of legal problems as well, and he ended up serving more than a year in prison in Italy and was later expelled from both sides, West Germany and England, for drug related offenses. He was eventually deported back to the States after more drug offenses.

He was severely beaten in 1966 after a gig in San Francisco. Accounts of the story vary, largely due to Baker's lack of reliable testimony. He recorded extensively throughout his career due to an overwhelming need to finance his habit. As a result, his discography is considered widely uneven.

In the 1970's Baker was allowed to return to Europe where he lived and played exclusively for the rest of his life. On May 13th 1988 he fell from his second story hotel window in Amsterdam and died, most probably under the influence of drugs. A plaque outside the hotel memorizes him. His last DVD recorded gig and conversations were at Ronnie's in London with guests Elvis Costello and Van Morrison. His body was brought home to California.

In his many recordings. some collaborations were dubious, some were outstanding, but all of them gave us an insight into his difficult lifestyle and the day to day run of emotions that gave us expressions that ran from bright, strong and exuberant to frail, vulnerable, lonely and exposed. The bottom line was "If Chet was on your record, it had class". All solos were played in a seemingly uncontrived lyrical style of his own. Still today these harmonies and lines are transcribed, studied and emulated by students of the discipline. After understanding some of these purely musical areas students may spend much time comprehending the X factor that cannot be transcribed, that unlimited range of texture and emotion this great instrumentalist has left us in his music.

With my friends, I hope to humbly convey some these lines, textures and emotions with horn and vocal, and give a glimpse of Baker's genius to audiences in my "White Blues"" concerts.
Geoff Culverwell 2005


Tribute Show:-


Chet Baker - Tribute show
With trumpet player / vocalist: - Geoff Culverwell
Trio *Anita Schwabe Piano *Caleb Robinson Bass
The show pays homage the music of the late great Chet Baker

The show has been a sell-out for two concerts at the recent Christchurch International Jazz Festival and is booked for a concert at the Queenstown international later this year and will perform at the Wellington International Festival this year, Bennetts Lane in Melbourne and concerts in Wellington and Napier in September.

Audience members, festival directors and critics have said "This man has captured the Chet Baker magic with both trumpet and vocal", "Beautiful lyrical horn work and steaming tempos", "Simply a magic night of immaculate musicianship with some very loyal renditions and new innovations".

"This show could go international!!"

Internationally performed trumpet player Geoff Culverwell started on this project two years ago adapting his horn sounds, improvisation and vocal style to something very close to that of the late great Chet Baker. This work culminated in two sell-out concerts at the Christchurch International Jazz Festival from which has come even more invites in '05/'06. The show is of wide appeal and takes the audience through the many stages of Chet's musical life and times - some good, some bad - but all reflected emotionally in the music. There will be tunes from Chet's last recorded performance at Ronnie Scott's in London where Geoff himself performed in the '80's and soon will have his own CD of this style of jazz available at his concerts.

---
Geoff Culverwell, renowned Wellington jazz trumpeter, will lead his group in a cool tribute to Chet Baker.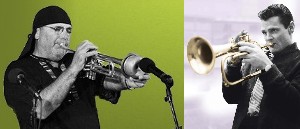 The show has been a sell-out for the concerts at the Christchurch International Jazz Festival.


Audience members, festival directors and critics have said: "This man has captured the Chet Baker magic with both trumpet and vocal", "Beautiful lyrical horn work and steaming tempos", "Simply a magic night of immaculate musicianship with some very loyal renditions and new innovations", "This show could go international!!"

Internationally performed trumpet player Geoff Culverwell started on this project two years ago adapting his horn sounds, improvisation and vocal style to something very close to that of the late great Chet Baker.

The show is of wide appeal and takes the audience through the many stages of Chet's musical life and times - some good, some bad - but all reflected emotionally in the music. There will be tunes from Chet's last recorded performance at Ronnie Scott's in London where Geoff himself performed in the '80's and soon will have his own CD of this style of jazz available at his concerts.

Contact Geoff Culverwell


PHONE: 021 446 374