Clients' Testimonials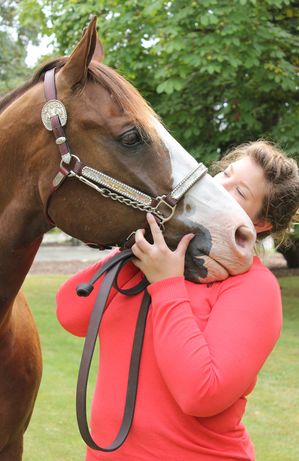 As with any business, what our clients have to say about us really says it all. Perhaps what we do is best described by our clients.


Val Wilkinson
Dear Geoff, Thanks so much for solving my mares old injury issues. I bought the horse 2 years ago and she did not move very well though had good conformation. I thought this was mostly due to lack of correct schooling. However she was unable to canter, had a poor trot and appeared to be "cold backed" with the odd buck,stiff back and short strides. The problem progressed with me being seriously dislodged and the horse being short and unable to tolerate a rug on her back. The muscles were now in obvious spasm in her back, and hindquarters. Blood tests were all normal.

Geoff spent 2 weeks getting to the bottom of what was likely an old injury which had never been treated. The horse is now free moving and cantering well, jumping and keen to go out. The look in her eye is no longer apprehensive or resigned to pain. In addition a new Citori saddle has provided a good fit and comfort for her back enabling her too stretch and use the previously sore and tight back muscles.

I would recommend Geoff highly to resolve muscular issues which cause poor performance and reluctance to work. The exercises he insists on doing are the best to get the horse working through and over the back with drilling for long periods. They encourage roundness and stretching of the topline encouraging lift of the back and engagement of the hindquarters without stress as most of the work can be done at walk and slow trot initially until strength is improved.

I will continue to maintain the horse with Geoffs work as I know it works - just like me going to a chiropractor !!


---

From Jude Nickolls, Queenstown:

Hi All,

Geoff is coming down again on the Thursday before Labour weekend for 6 days (over Jazz fest time). He is available for lessons or treatments and lessons combined. He will travel to you and teaches dressage or jumping (or both). I have attached a couple of flyers he has sent down or visit his website www.geoffculverwell.com. For those of you who have not worked with him before:

Geoff trained in Europe, Australia and USA, currently competes at medium level dressage and 1.15mt SJ on the 6yr old 17hh Masarlis (Anamour) and novice dressage on 5yr old 17.3hh Volarchi (Voltaire 2). He was a multiple SJ circuit winner on 5 different horses and formerly rode Adv.HT and was in a New Zealand training squad. He was involved with the New Zealand prep of WEG contenders. He trained and supervised the preparation of 8 different horses (over 3 grades) for the last 3DE champs, all of which finished very sound on their dressage score - four were placed in the top three plus two winners (two horses were over 19 yrs of age).

I had the pleasure of some lesson/treatments with Geoff about 3 weeks ago and lo and behold he completely found the reason why Cabby was resting her leg (constantly as soon as I would halt or anything) and helped me fix it. Trust me this was the bane of my life! Not only does he treat your horse, he shows you how to keep the treatment going (all elbows), it's great to know what to look for. There were other 'holes' in the muscles in her back that were treated and the stretching in my warm ups the next day were so much easier - she was so much more flexible.

The lessons were great as well, as he does push you and makes you learn new things with the thought process of what will help you reach those higher levels. I am concentrating on dressage and it was great to get lessons that make you train a level above what you are (just what you should be doing!). Geoff pushed me out of my comfort zone and Cab was all too pleased to do something new and interesting. I was given great routines to do each day, especially warming up and cooling down which I have never had before. I found Geoff very knowledgeable and helpful. Even if he kept telling me off as I do have some bad habits (like my hands down low - remember Olympic hands!). The great thing is that as he is trained as a therapist, Geoff does know why horses do things, so riding and listening to everything he says gives you a great insight into what the horse is going through and why they do their little niggly things that can annoy you and also how they can be fixed.


His lessons are for 50 mins
Treatment/lessons are for 1½ hours
Or he just does treatments - depending on what is the problem with the horse.
Any queries let me know or contact Geoff direct.
Cheers,Jude
---
Below are a list of email testimonials
Hi Geoff, there certainly seems a lot of improvement since the first lot of treatment you did on Jack. Been hand walking him twice daily with the massage to the hamstring and he's becoming a lot more steadier and freer in his movement. Also he has been managing to keep those hind legs straighter and track up more. Can we please book you in next time you are up this way. Is it still likely to be this Saturday? As we mentioned, we do have a show that morning, but 2pm onwards allows us plenty of time to be home by then.
Cheers,Cara.

---

Hi Geoff, also wanted to say a huge thank you. There has been quite a significant change in Matilda. She has been standing still when I mount and what I thought were ticklish spots when I was grooming were obviously painful areas, as she used to swish her tail when I groomed her flank/belly and since the treatment she hasn't. I have only hacked her since the weekend but it is very noticeable that her head carriage has lowered (except in moments of excitement which I think is to be expected) and she now stretches her neck when going uphill and after exertion. She is obviously feeling much better. I hope she continues to feel this great. Just thought you might like the feedback.
Thanks again, Vicky.

---

I had a lesson yesterday and Kathryn suggested we try a new bit with him. I think I remember you saying something about the bit I was using, but not sure. If so what was the type of bit that you recommended that I use? Anyway Sprenger bit, the KK Ultra and he loved it. He wanted to stretch down and get it and didn't resist as much as he used to. He even shut his mouth most of the time. I really think this could be part of the problem with him just carrying himself looking correct but not using the right muscles to do it because he was sort of avoiding the bit. He was definitely less tender under the saddle and around rib area when I got off. Am having another lesson tomorrow with the new bit. Then I will try and buy one. The instructor mainly just asked him to stretch out and move his shoulders more. She said she has noticed a difference over the last month and the three times she's seen him. So maybe all is not lost.
Thanks, Melanie.

---

TO WHOM THIS MAY CONCERN: I write to recommend Geoff Culverwell to anyone having performance issues with their horse. A simple enough statement - here is my story. The horse that I bred to be my mate for 20 years, an Irish Hunter gelding named Eli, had not been progressing as planned. His education was started by me at 3 years of age, confidently and quietly. He is a kind soul with more than a dash of attitude. No problems to speak of until a paddock accident that no-one witnessed started to cause some concerns. One day he was fine, the next he had a bony lump on his nose (not painful) and a fleshy lump on his off side wither (again not particularly painful). While the bony lump didn't bother me, I became fixated on fixing this fleshy lump on his back, as I did not want to be riding on it. Poultices and anti-inflammatory treatment had no lasting effect, so because it did not appear painful, I started riding again. He then went to my trainer to help me with canter, as I simple could not achieve one. My trainer got a canter of sorts, but it was hollow and on four tracks, and Eli could not sustain it for long. I was instructed to just do more of it, but when I could not bully him into it, and he would stop dead mid stride, I knew I was stuck. I now know that only because he has a good character, we are both in one piece today.

Geoff's equinePHYSIOcare provided some positive outcomes, I noticed that Eli could step forward further with his hind feet after a treatment, however the results were not lasting. Within a few days the improvement was gone, and he was guarded again. Then through a fortunate e-mail discussion with someone I don't even know I found Geoff. Geoff met Eli in a very unfortunate condition. By this time the problems had been ongoing for over two years. Damaging the muscle in his wither caused a sore shoulder, and the other shoulder was also sore in an effort to compensate. Circulation to his hind quarters was poor and his glutes and hamstrings were tight. His chest was sore and his pectorial muscles were in a constant state of spasm. His neck was upside down and he could not stand square. It was not an easy road - certainly not a one-stop fix, but as we undid layers of damage, the improvements were noticeable and sustained. As one component came free, muscle became sore simply because they had not been used for so long. Then another layer was uncovered. He began to be able to graze with either fore leg forward, his hind feet were coming further up underneath him as he walked. He chose to canter in the paddock, and he could do flying lead changes. He could canter on a 20 foot circle in either direction, and he could pull handstands in the paddock!

The initial injury may well have been caused by an exuberant youngster, skylarking in the paddock, pulled a handstand and fell on his face! As the physical issues were addressed, there were then educational issues to tackle. Eli had to learn how to lift his back, move long and low to better balance himself through all his paces. This was the biggest challenge for me, as I have firm views on how I want my horse to be treated and how I choose to teach him. Geoff's approach is simple, based on logic that anyone (horse and human) can understand, and teaches the horse how best to help himself. My advice to anyone in this predicament, apart from seeking Geoff's assistance, is to know that if it doesn't feel right, then it isn't. It is not the simplest path to take, but nothing worthwhile is ever simple. The results speak for themselves. My horse is so much improved he can canter both leads in a frame that helps him to sustain it, and we are back on track to being mates for 20 years. Many thanks again Helen, lovely to see my horse working like that.
Cheers, Simone

---

Hi all, just a note to advise that my three-year-old filly Satrapy trialled over 800m at Cambridge today and ran an excellent second - beaten by a nose. Nice to get some good news at last.
Anne

---

Dear Geoff, Thank you very much for seeing my horse Gangsta on your recent visit to Melbourne. The work you did with him has improved his legs and back considerably. He stands straighter and he is much more co-operative to ride. I have been doing the massage work and stretches with him and it helps. But I think the saddle is making him tight as soon as I ride in it. I am getting my new one next week so I will monitor how that goes. Are you able to give me any more exercises to do when I ride him? Thank you again, it's made a huge improvement.
Melanie Farrant

---

Larry is feeling much better, straighter and even. Overall the work you did on him has made a huge difference.
Thanks again, Andrea Raves

---

Hi Geoff, the pony went great in the weekend, best dressage yet and apart from some steering problems the XC was good too.
Izzi Glassgow

---

Thanks for your help and work with Gordon in our WEG qualification bid, winning the national HT champs at Taupo this year
was a nice come-back after the disappointing result at the ODE champs.
Team Grayling





PHONE:021 446 374